Eden Prairie, MN
Background
Skating has always been a huge part of my life. I grew up in Minnesota and remember chilly winter days, the neighborhood dads venturing out onto the pond to check if it was safe, and the squeals of the kids as we skated on the shoveled surface.
When I was 9, I watched Sasha Cohen compete at the 2006 Olympics. I clearly remember thinking, "I want to be just like her", and a year later my mom signed me up for Learn to Skate.
I FELL IN LOVE. Sorry Shep, skating is my first true love, and I was obsessed. I went to bed with my ankles crossed to mimic proper jumping form while I slept. My screen name on neopets and webkinz was "foca17", Future Olympic Champion at 17. I mentally choreographed programs to every pop song on the radio. I lived and breathed the dream.
For better or worse, the Olympic dream didn't pan out due to financial reasons and a back injury when I was 15. I stopped skating competitively, but picked it up again in college with the Dartmouth Figure Skating Team with the most amazing team members who are still my closest friends.
After graduation, I decided I had accomplished everything I could in the sport and, with the pandemic hitting, I hung up my skates for good.
Or so I thought…
The Inspiration
Cut to 3 years later. It's 2022 and I'm watching the Olympics with my roommates and excitedly explaining why "we are Jason Brown stans", why "it's so unfair how her incorrect lutz edge never gets called", and why this doping drama is "actually the most insane thing ever". 2022 Olympics was a hot mess for figure skating, but there were two bright spots:
Kaori Sakamoto's "Woman" program
, a free skate celebrating the strength of women as well as
Nathan Chen's "Rocketman" free skate
, a joyous program where he fully let loose at the end. These performances lit a fire underneath me and got me back into the sport.
The Goals
I'm an extremely goal-oriented person, so I decided on 4 things I want to do:
Qualify for the 2024 Adult Figure Skating nationals. I'd need to place in the top 4 at the sectional qualifiers. I'll try my best to do this without a coach ($$) and use phone videos to analyze my progress.
Improve my skating skills. Something I never focused on when I was a jump-crazy pre-teen. It would be way too expensive to try and test all my move-in-the-field levels, but I'd like to at least learn my novice, junior and senior test skills
Obtain three Level 4 spins. A Level 4 is the highest "level" a spin can be, and the "4" refers to having 4 different "features" in the spin. You can get a feature from a difficult entry, exit, or position during the spin.
Skate on Lake Louise. My happiest moments in college included skating with my teammates on Lake Morey in Vermont. My roots in skating come from pond skating outdoors, and I never want to leave that behind.
The Journey
Washington, DC
March 2022: First sessions
I LOVE skating outside, and thankfully my muscle memory was still there as I visited the DC Sculpture Garden rink with friends.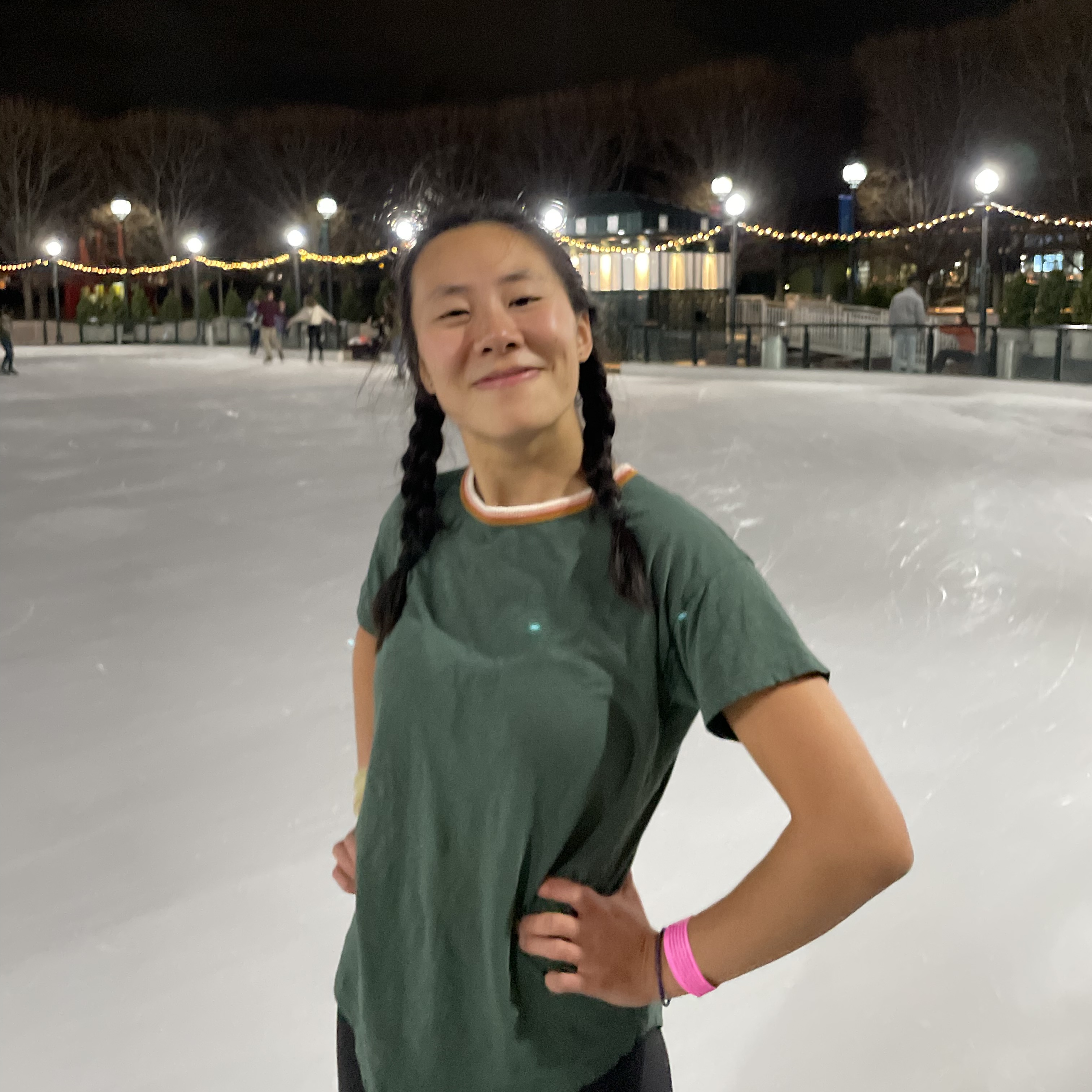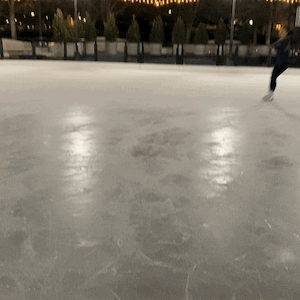 Arlington, VA
May 2022: Purchasing New Skates
I've used second-hand skates my entire life and hoped that the pair I used in college would still work. Sadly, the boots were breaking down and I decided this passion was worth investing in a new pair of Jacksons. I bought my boots and blades online, molded the boots in my oven, and went to a local rink to have my blades mounted professionally.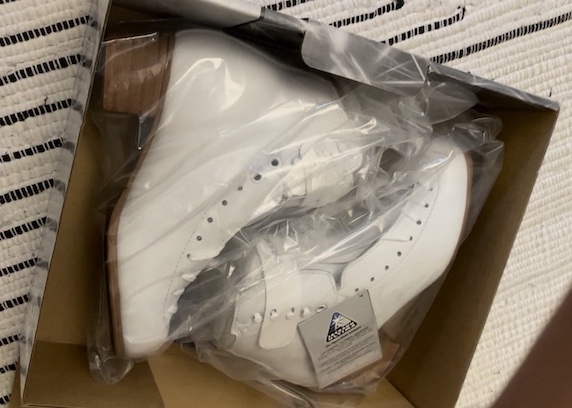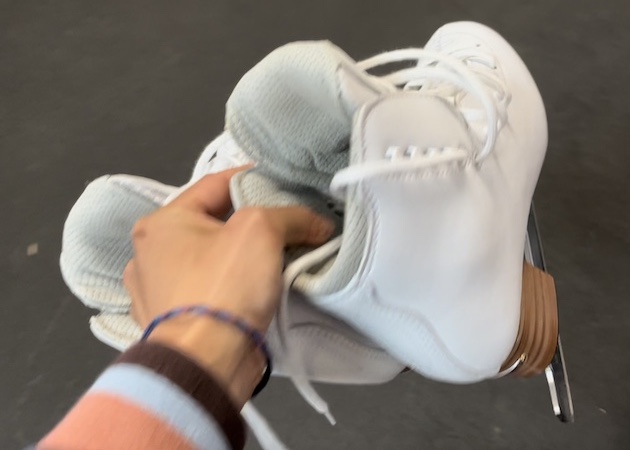 June-August 2022: Brief hiatus due to moving + travelling + getting COVID 😭😭😭
Independence, MO
September-November 2022: Getting my existing jumps back
This was a surprinsgly frustrating process. Consistency was always my forte, but jumps like the double toe loop did not come back easily. To help me through the process, I watched a ton of technique videos on YouTube and practiced the jumps off-ice.
December 2022-January 2023: Improving back and knee flexibility while travelling/moving
I'm travelling again and moving to California! I won't be on the ice for about a month, so I'll continue working on my back flexibility (which is abysmal right now) for my spins and landing position, and improving my knee/hip flexibility for spread eagles, ina bauers, and deeper edges.


Marlborough, NH
🚨🚨🚨 HAPPY PLACE ALERT 🚨🚨🚨
Got to skate on a pond at Camp Glen Brook in New Hampshire! Thank you Shep for filming :)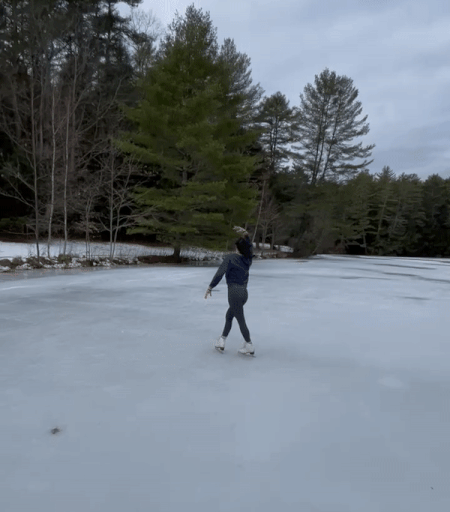 San Francisco, CA
February 2023-May 2023: Getting my first Level 4 (ish) spin!!
I actually don't think this gif fully counts as a level 4 spin, but if done with a little more ~polish and pizzazz~ it would! It's a camel spin, difficult windmill transition (level 1), sit spin, sit back variation (level 2), non-basic position but pretend it's a little better (level 3), upright variation (level 4!!!)
Also I HIGHLY recommend the Yerba Buena ice rink - the natural light is AMAZING and the adult skating community is so supportive